Polishing
We recommend polishing your gold and sterling silver jewelry with a soft cloth.
Depending on your daily level of activity, and if you want to wear your fine jewelry everyday, you will want to consider durability of your metals as well as your gemstones. For more information check out this blog article on ring materials for everyday wear.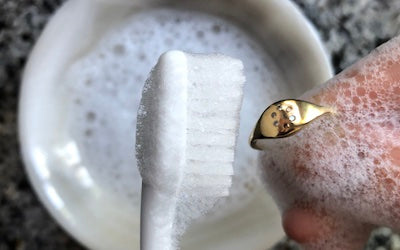 Cleaning
We recommend cleaning with warm, soapy water. Let your ring soak for a bit then you can use a soft bristle toothbrush to clean around stones and their settings.

All natural stones need to be handled with care. Gemstones can break or crack if dropped on a hard surface so please remember that your fine gemstone jewelry is precious. For more detailed information on how to care for a specific gemstone, check out our materials page.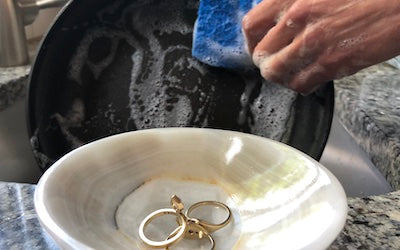 Care
Exposure to chemicals can damage or discolor precious metals, gold, palladium, sterling silver, and may harm some colored gems. Fine jewelry should be removed before entering a chlorinated pool or hot tub as well as natural hot springs as they contain sulphur. It is advised to remove fine jewelry before using common household chemicals as well as hair and make-up products.